Learn how to make an Instagram post cover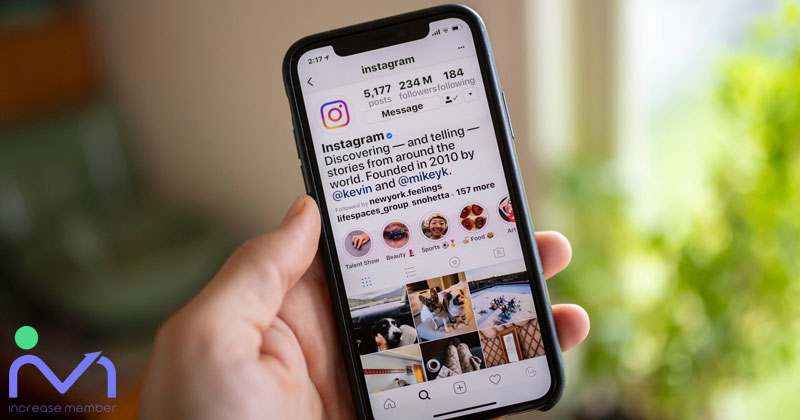 Designing Instagram post cover is one of the important opportunities for growing your page on Instagram. Attractive pictures and texts can enchant the audience to a great extent. Instagram, undoubtedly, is one of the most important social media in the world. Any marketer who doesn't use Instagram, has lost a huge chance.  So, creating Instagram post cover can encourage your audience to watch the rest of the pictures or videos. In this article, we're going to define Instagram post cover and how to make it.
Why Should We Use Video in Instagram?
Based on some done researches, the popularity of video posts is much more picture posts. Therefore, you need to creative attractive video clips for attracting more followers on Instagram. Video clips are more effective and, this way, users can become familiar with characteristics of Instagram page owners much more easily. Instagram shops introduce their products or services through creating awesome video clips.
What is Instagram Post Cover?
The first shown picture, aside from the video content while playing the video, is Instagram post cover which, somehow, introduces the video content.  In fact, the first picture or the first second of the video is called Instagram post cover. Therefore, you should design the cover based on the page content and the needs of the audience. If you want to put some pictures in a post, the first picture can be the post cover. For publishing videos in Instagram, you can consider the first second of them as the video cover. To reach this goal, you can design a picture and add it the beginning of your video through using special softwares. Of course, while uploading the video, you can choose a picture as the cover. With the help of post cover, you can promote your page subject and career type at a glance. By designing a suitable cover for your page, you can familiarize lots of Instagram users with your brand. This way, not only users trust you, but also the way for performing specialized marketing will be paved.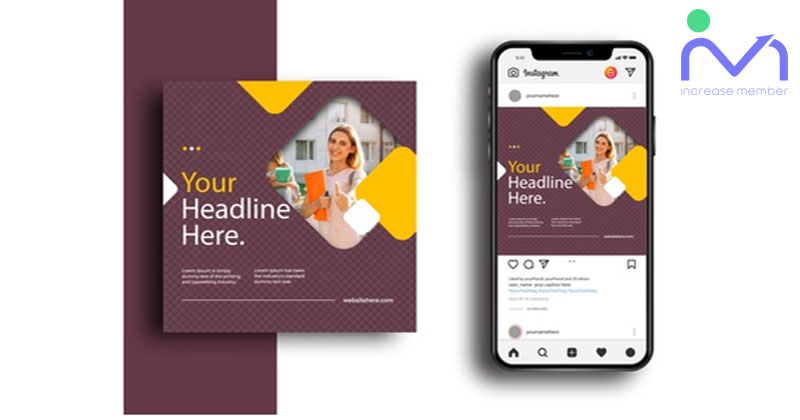 Some Benefits of making Instagram Post Cover
The most important reason for creating Instagram post cover is to attract followers through Instagram Explorer. Usually, the posts of pages that aren't private enter into Instagram Explorer, but has less power to attract followers, because the present users in Instagram Explorer click on those posts that have a certain and clear subject. The subject of your page will be represented by your Instagram post cover. Attracting followers and visitors depends on content quality and the Instagram post cover. 
Instagram Post Cover Size
All published posts in Instagram are shown square-shaped, no matter you're watching a post through explorer or you're watching it in the considered page. Ultimately, what you'll be watching appears in square shapes. This way, Instrgram distinguishes itself from the rest of photo-sharing apps and provides users with consistent look as they scroll down the feed. Also, square shaped posts seem better on smaller phone screens. Instagram shows all your published posts, whether square-shaped, vertical or horizontal, from the central square. So, first of all, it's better to choose the square size and, then, design your favorite post cover in square shape. In video posts, there is the possibility for changing cover into various frames, but the first second is usually used. In the last version of Instagram, you can choose the cover picture from the gallery directly.
Important Points about Creating Instagram Post Cover
There are various points regarding the creation of Instagram post covers. Here, we're introducing some of these points:
Observing a variety of related points can make your design more attractive while performing the designing work, no matter you're creating the design for post cover or performing banner designing. You should identify colors and use suitable coloring in the designing process.

The performed designing should be completely related and coordinated with the considered post. Also, for writing the text of the cover, it's better to use large and legible texts with suitable coloring in order to be shown clearly.

Since the cover is the first item seen by the users, if it isn't attractive enough to enchant them, they will avoid watching your post thoroughly. So, it's necessary to design the post cover attractively and professionally. The most important parts of creating cover are as follows:

Impression: There are various users with variable styles and interests on Instagram. The basic point to be observed for creating cover is to transfer your impression. You should determine what kind of impression and sensation you're going to transfer to your audience.

Color: Colors determine your feeling. There are lots of colors for representing your picture or video clip.

Text: The cover picture shows the post subject. However, you can make users understand your goal by writing a text in the picture. Most influencers use contentious texts to excite their audience. Attractive titles with legible and large size are more charming.

Template: Designing cover templates needs time and expertise. However, you can use ready templates. You can download your favorite template for Instagram post covers using search engines like Google.

Picture: This element is the most important part of the post cover. Using certain apps, you can take photos or create photos. Your cover should be coordinated with the post subject in order to be trusted by the audience.

Light: In the picture of post cover, you can focus the attention of your audience on one point through controlling the existing light.

You can get help from color spectrum and suitable backgrounds.
It's better to use a combination of picture and text. Undoubtedly, an attractive picture is much more expressive than a text. The headline of the post should be short and containing the golden keywords related to the post in order to be able to deliver complete information about your post content. The type your font put on the Instagram post cover should be very beautiful and attractive. Use various colors for the cover text. Keywords should have more colorful. The video cover isn't just for a single post and it's also shown in the Instagram feed. Therefore, it has an important effect on the beauty of Instagram page appearance. For creating Instagram video covers, you can use Instagram pages with a large amount of followers as a model and use their designs for your post covers. For selecting short and attractive texts, you should read daily magazines and newspapers headlines and study related books.
Creating Instagram Video Covers for One-minute Videos
Observe the following steps for selecting Instagram video covers if your selected video has one-minute duration: Select your favorite video clips for uploading on Instagram and the click the Next button. In this section, three options will be shown: Trim, Filter and Cover. You should Chose "Cove" option. Then, related video frames will be shown. Now, it's time to choose your favorite frame. After selecting one of the frame templates for your Instagram video cover, click the "Next" button. Make necessary adjustments and create a good caption. Now, it's time to share your video clip with the created cover. Now, the way is paved! To get a good result, you can use SMM panel for buying high quality social media services.
Use the New Capability of Instagram
If your Instagram app has been updated recently, you can enter the cover directly from gallery and adjust your Instagram post cover.
What Are Some of the Instagram Post Cover Makers?
There are various softwares available for creating Instagram post covers. With the help of your laptop or cellphone, you can create attractive post covers.
Photoshop Software
Undoubtedly, Photoshop is the best software for creating various covers and designing attractive banners for various Instagram post covers. This software provides a variety of facilities for performing the designing process. If you can't work with this software effectively, you can use other related and available softwares.
Picsart Application
Picsart is another free app for editing pictures and lots of users are utilizing it. Some of the facilities of this app include adding picture, template, text and various art clips to the pictures and changing pictures partially or generally. This app allows you to download your favorite fonts. You can transfer the saved fonts with .tff suffix on your cellphone onto this app and use them later. To reach this goal, you should just copy your considered font in MyFiles/PicsArt/Fonts in order to be shown in MyFonts section of PicsArt application.
Canva Application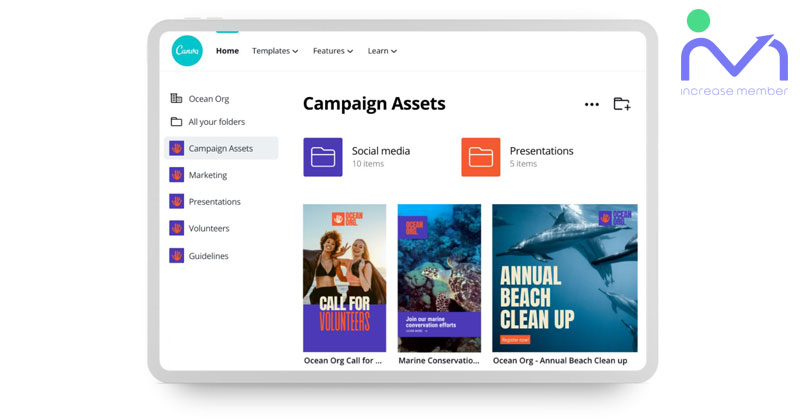 This app is one of the most applied apps by which you can design various covers for posts, stories, visit cards, banners and other similar options. This app has attractive and ready templates that you can select and change based on your needs. So, you don't need to design a photo for cover. You can save your own designing templates in this app. With the help of this app, you can create different types of photo and favorite logos.
Inshot Application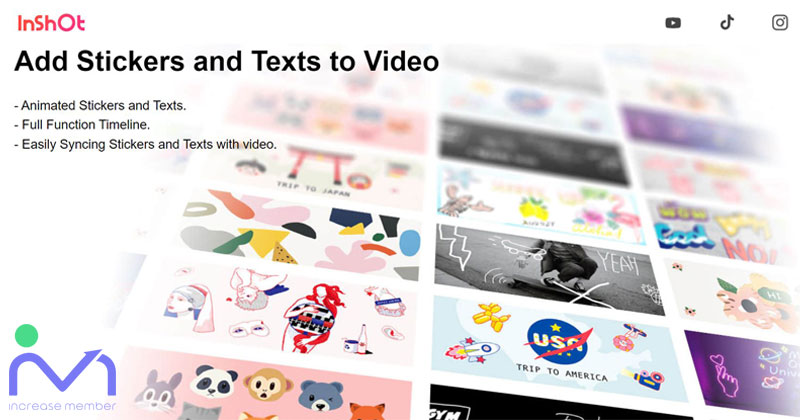 Inshot is another helpful app for creating post covers. This app is used for designing picture cover and the cover of video contents as well as editing videos. One of the good capabilities of this app is to edit and merge pictures and videos simultaneously. This feature leads you to use this app for satisfying all of your needs and save time.
VSCO: VSCO is one of most important apps for creating photos. Before taking photos, with the aid of this app, you can adjust some related elements like effect, light, photo-taking speed, retouching and shading easily. This app is called the king of effects, because it can create videos and pictures with various effects and high quality.
Creating Instagram Post Cover with PC (Personal Computer)
You can create various post covers with help of your PC professionally. PC apps are more comprehensive and complete than cellphone apps. Below, we'll introduce one of PC apps for creating post covers:
Premiere Pro: Nowadays, Premiere Pro is the best app for designing Instagram post. This app has lots of add-ons for any type of editing process. With the help of the ready effects of this app, you can save time and design your favorite Instagram post cover quickly.
Creating Instagram Post Cover through Using Websites
When you don't have a special system for designing post cover, you can use some related websites with no need to have any special hardware equipment. Below, we'll introduce some of these websites:
Adobe Spark Post: This web is used for designing and editing pictures, graphic works and videos. Working with this app is easy and it can be downloaded as an app on the net.
PromoRepublic is one of the best websites suitable for creating post covers. With the help of this web, you can simultaneously merge multiple pictures. This web has at least 100000 templates and samples for any subject.
Choose the Best App Based on your Needs
Usually, the best app is the one that is selected based on user's need. It's better to consider the following criteria for selecting the best and most effective Instagram post maker app:
Equipment (Web, cellphone, laptop and PC)

Determining the professional level of the work

Having enough knowledge for using the selected app properly

Time and the speed of the work
Through considering the above criteria, you'll be able to find the best post cover maker app. We strongly advise you to use Instagram reseller panel.
Overall, cover is the shop window of your Instagram post. These days, Instagram has become the most important tool of developing brands. One of the ways for growing businesses is to design post cover proportional to the related business. The more attractive the appearance of posts, the more users will be attracted to your Instagram page.