How to Add Multiple Links in Instagram Bio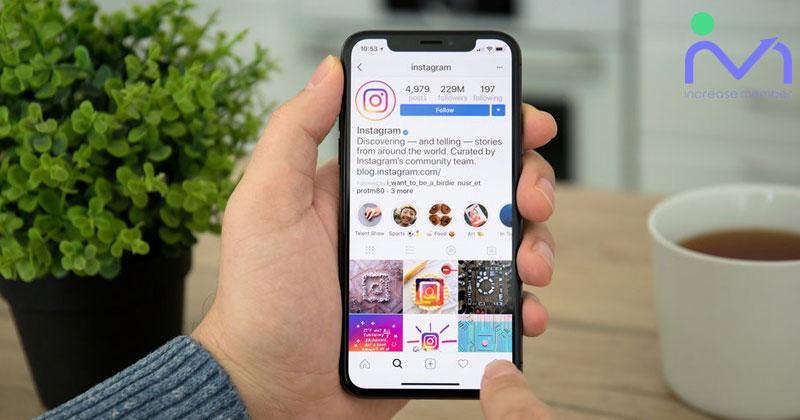 Now in we are living in 2022, where technology talks! Anything has been improved with the power of technology and we have to be compatible with this truth. One of the apps are so popular among the society is Instagram with many great features! And that's why in this article we are going to teach you an interesting tip about Instagram.
We are going to teach you "How to add multiple links in Instagram Bio", this is so important for business accounts and the people who want to advertise something in the Bio.
Let's go through.
Note: Instagram reseller panel and a good SMM panel are a great option for you to increase your Instagram visibility quickly.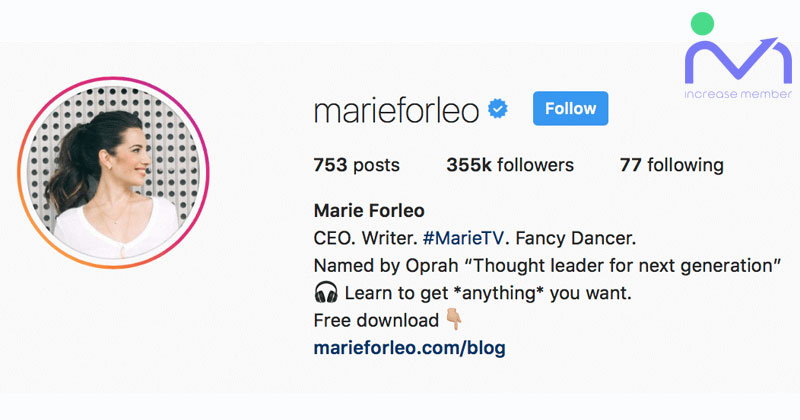 Why Instagram Bio is important?!
The biography can show your general information to convince the customers that are doubtful about you. So, Instagram Bio is the first part of your page that customers encounter and the first impression from a psychological aspect is so important.
In the continuation of the article we show you the tips to have a more influential account and make it look better.
Why having multiple links in Instagram bio is important?
Since it is not possible to insert a clickable link in the Instagram post captions, so the link that is placed in the Instagram bio will be so special and important for your business or your career. This link can send the customer directly to your website or landing page as you want! To do this correctly, try to have a great bio and add multiple link on it to get customer taps.
How to add multiple links in Instagram bio?
Let's talk about the main topic of our article, adding multiple links in Instagram Bio. If this is a challenge for you, too. Be with us.
Note: in the normal mood Instagram don't allow you to add multiple links in Instagram Bio, but we want to use some great methods to do that.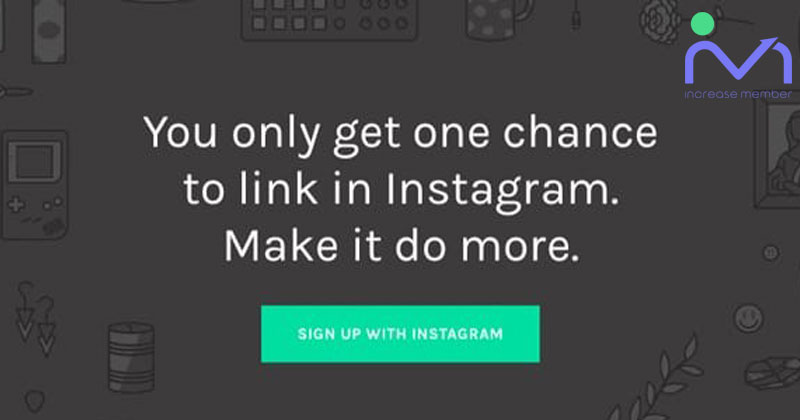 Put multiple links in Bio Instagram with linktr.ee website
It's interesting to know that the website https://linktr.ee allows you to place multiple links in the Instagram bio easily; to do this process, you just should enter the website and allow to access to the details and information of your Instagram account, after that you can get a single link, and for having this link, users can access any number of links that you want.
To use this service, enter the Linktr.ee site and click on the "sign up" free button and complete registration process on the site. After registering on the site, a page will be shown for you that you must choose between the Free option and the paid option. It is better to click on the "I will continue for free" item. Because the paid option has special options that you do not need them, and the same free option is probably suitable for you and you can easily create multiple links for your Instagram with this option. After clicking on the free option, you will enter the following page and you can easily create your links. Write the title first and then place your link address.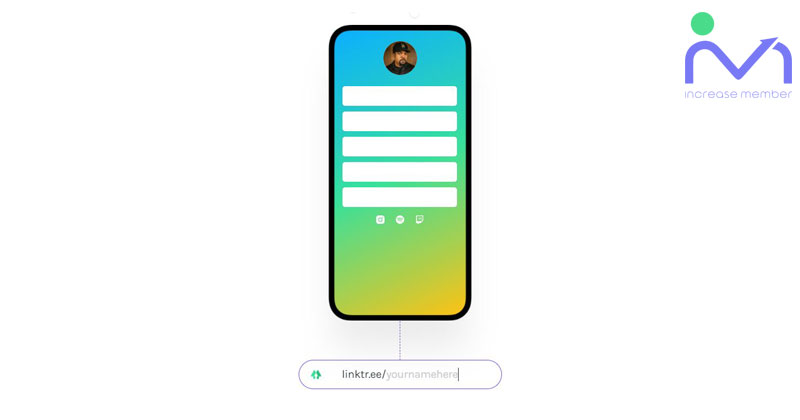 And in this method, create the rest of your links. At the end, you can copy the created link and put it at the top of your Instagram page, notice that with this method, you can easily put 5 different links in your Instagram Bio.
Notice that there are several methods to put multiple links in Instagram bio, but using the Linktree is the best one and try to fix your problem with the help of this website.
You can also use platforms such as Smily.bio, Linkinbio, Milkshake, or Shorby to put multiple links in Instagram bio.
Can I get traffic from Instagram bio?
Why not! As you probably know SEO is so important to note! And we all want a website with many visitors. If you are going to work on Instagram and create creative posts daily and publish them, then putting multiple links related to your website, Telegram, WhatsApp, or other platforms can make your page more popular.
And generate so many visitors for your website or the other social media pages.
Choosing the best items for Instagram profile
First of all, let's answer this question: Should I have a great profile image?
Yes, that's a good first impression strategy for your profile and you need it! If your page is related to a business, then you have to choose a great and simple logo, otherwise, you should choose a beautiful and simple illustration.
Should I have a private or public page?
On Instagram, if you want to see your business page, set your page type to the public, on this option the users can see your posts and choose to follow you or not!
While a private page is great for people who have a personal page and don't want to be familiar with strange people.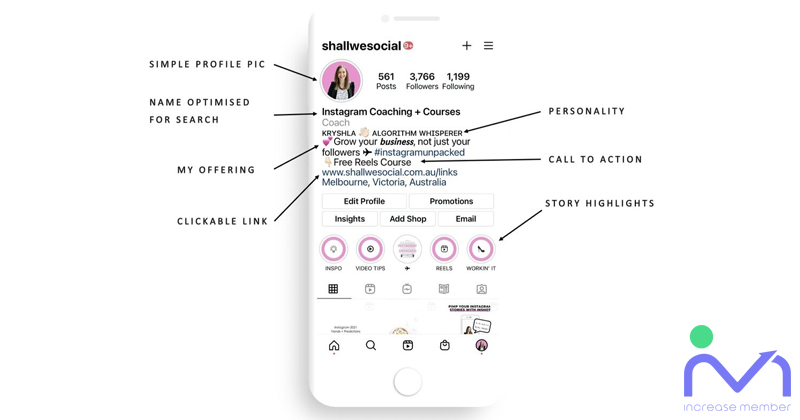 What are tips to have a good-looking Instagram profile and bio?
The first part of your profile is your business ID or username, the same name that people can use to tag you or search for you. So, the first step to having an optimal profile is to choose the right name. Your profile ID should be related to your business name and easy to read. A simple name always works.

The second tip is that a business's Instagram profile should be public, which means anyone can see your page content without even following you (as we said before).

The third tip is about Instagram profile image, your Instagram profile image should be related to your business (a logo can be a great option), this image should have enough quality to impact the audiences. Poor quality profile image cannot get more audience.

The fourth tip is about the name of the Instagram page, the users can find you with this name and this name is shown below the profile image. Try to use a meaningful name that shows your company value or your values as an individual to customers and this name should be related to your business or career.

The fifth tip is about your profile bio and actually, our article is about putting multiple links in bio and saying the importance of bio; bio is the part that goes under your profile name and you can provide a description of your business to fill it. You can only write 150 characters in this section, so try to answer the user's mental questions in the same 150 characters.
Bio says anything about you to the customers and this part of the page is so important.
The sixth tip to improve the profile is related to the website section, this section is the only place where Instagram has allowed you to insert the link (but with the help of this article you can put several links there), in this field you can put any links such as telegram link, WhatsApp link, or website link.
If you don't want to put several links in this area, in my opinion, enter your website address to be connected with your audiences.
The seventh tip is about optimizing posts, please use the location tag, when you post content on Instagram, you can use the location tag to specify the geographical location of your photos.
For example, you put a photo of your business environment and use the location tag to specify where this photo is located. According to Instagram statistics, posts that use location tags are more visible than other posts and engage users more.
In addition to the location of posts, you should make a call-to-action at the end of your post to persuade the users to like, comment, save, and share your posts.
Post quality photos, Instagram is full of photos and videos, and users see a lot of photos every day, many of these photos are high quality, therefore do not destroy your brand by posting low-quality photos and videos.
You have to hire an experienced Instagram admin that knows Photoshop and Illustrator or Figma well to design great posts.
Besides useful and needed content you should create, remember graphic design is so important to be successful in Instagram because the users before reading your content pay attention to your graphic design.
Use related hashtags in the content you put, Instagram has a limit of 30 hashtags, but it does not mean that you must enter 30 hashtags, usually, 10 or 11 hashtags are appropriate, do not overdo the hashtags, and use hashtags. Do not use irrelevant ones that are merely popular.
According to our research and personal experiences, you can get many followers just by choosing the right hashtags and having an attractive profile with a rich content bio.